Get A Golf Handicap
UK Golf Guide
Golfshake Top 100s
Find Golf Travel Deals
Golf Competitions
Search
Community Forum
Tee Times | Search | Reviews
Gear | Tour | Industry Insider
Video Library | Tuition Sections
Join | Log In | Help | Useful Links
The Uncorrupted Pleasure Of An Old Bladed Putter: A Collection Of Golfing Fables by James Ellis-Caird is a delightful book that is available for order via Amazon.
Both hard and paperback copies are available and this will be a genuine candidate for the busy Christmas golf present market.
It's a difficult book to describe as it doesn't fit into any of the usual categories of golf literature.
It's not a golf instruction manual but it contains some absolute gems of advice.
It's not a formal autobiography but it provides some genuine insights into the mindset and motivation of a talented coach who has an open and challenging mind and is not afraid to think outside of the box.
It's a love letter about a life-long affair with the game of golf that captured the heart of a young man with a borrowed club and a curious mind backed by talent for sporting endeavour.
It's also a heartfelt tribute to the author's late father. The opening dedication simply states. "To my Dad, a truly wonderful man with a dreadful short game."
I knew this was going to be an interesting read when James opened with a poem. I have been that centipede who allowed a hundred swing thoughts to invade the brain and suck the very life out of the joys of our wonderful game.
'A centipede was happy quite, until a toad in fun Said pray, which leg comes after which? That raised his doubts to such a pitch. He fell distracted into a ditch. Not knowing how to run,' Katherine Craster, Pinafore Poems, 1871.
It provides wonderful food for thought in every chapter.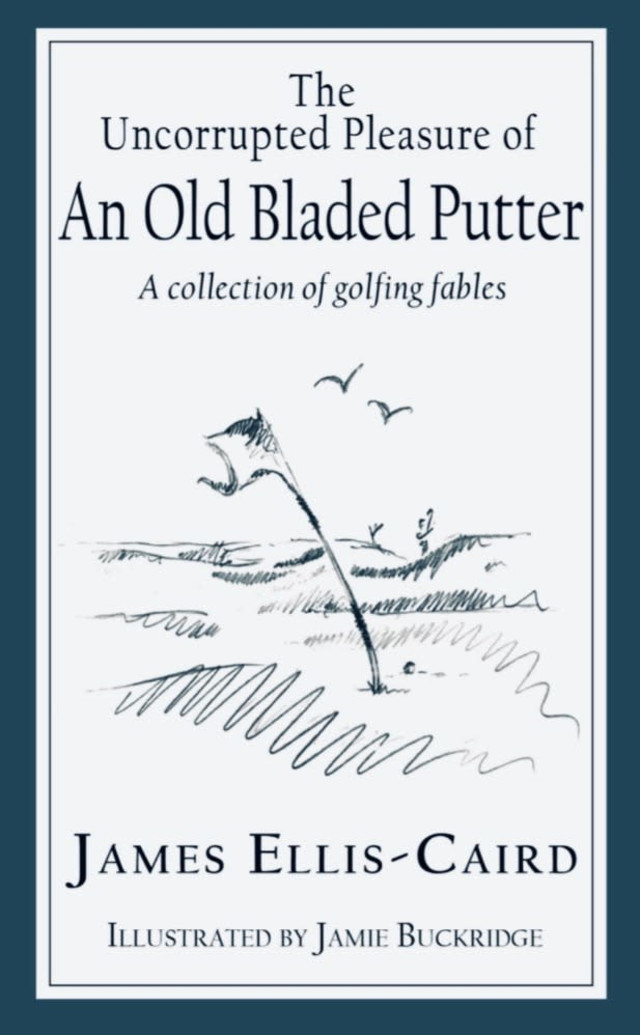 I found the chapter headings intriguing and interesting in equal measure and once started could not put the book down. I have found myself returning to it as different playing situations occur.
I don't want to spoil the end of the book by revealing too much about its content, but want to encourage anyone interested in golf to give it a read and allow themselves to be challenged by its thinking.
I have been contacted recently by a few non-golfers who are wishing to take up the game. My advice to them has been to get access to a copy of this book and take its simple messaging to heart. It contains some real gems and seeds of insight that will hopefully germinate into a wholesome addiction to the game of golf.
It espouses the idea of Learn Through Playing.  
Don't be wrapped up in acquiring a full set of clubs at the start of the journey. It is quite possible to get addicted to this game with a single club and the feeling of a well struck shot. This is why access to municipal facilities is so important to the future of the game to allow beginner access to a golf course without the worry of failure.
The chapter on 'good enough' golf is a belter and a challenge to conventional thinking. I know the joy of golf without a scorecard and it frees up both the mind and spirit to play the best golf possible.
This book is about golf and its raw yet pure pleasure when played in the right spirit with the right people.
I totally agree with the thoughts expanded upon in the chapter of observational learning and have actually tried to find my own model within the professional ranks as a direct result.
I have also seen myself in some of the mistakes detailed within its ideas and concepts, especially when I initially tried to support my son and wife to learn to play the game. Luckily, I realised the error of my ways quickly enough to ensure they both were supported by those better qualified than I.
If you hear me muttering about Roller Coasters whilst playing this book is the cause. Talk about teaching an old dog new tricks!
I highly recommend this book and I am happy to report that both my new converts to the game have reported the same impact.
Add it to your list to Santa and you will not be disappointed. Some of the thinking will challenge you, others will provide a light bulb moment of thought and enlightenment.
For more about James and the book, please visit his website: https://www.james-ellis-caird.com/.
BUY ONLINE ON AMAZON
What do you think? leave your comments below (Comments)
Tags: review GOLFERS Golf Books Golf daily picks Books
 
Golf Tuition
Tuition Series
Golf News
Golf Gear
Golf Forums
Forum Archive
Golf Course Directory
UK Golf Courses
Tee Time Search
Golf Inspired
Search for Golf Courses
Tee Time Search
Latest Golf News
Gear News
Weekly Tour News
Tour News
Industry News
Golf Resources
Site Help
Rating & Reviews
Get a Golf Handicap
Golfscoretracker
Handicap Calculations
Stat Tracking Cards
Golfshake Services
Advertise
Jobs/Ambassadors
About Us
Contact Us
Terms, Cookies & Privacy
Help | Site Map | Our Services | Golfshake Apps | Feedback | Contact Us | Work With Us | Our Partners | Change Privacy Settings

© Copyright 2007-2021 Golfshake.com Ltd. All rights reserved. Terms of Use, Privacy Policy & Cookie Policy